Whether you're celebrity chasing or couch crashing, here's the run down on where to stay, eat, and ski.
April 13, 2017 By Julie Brown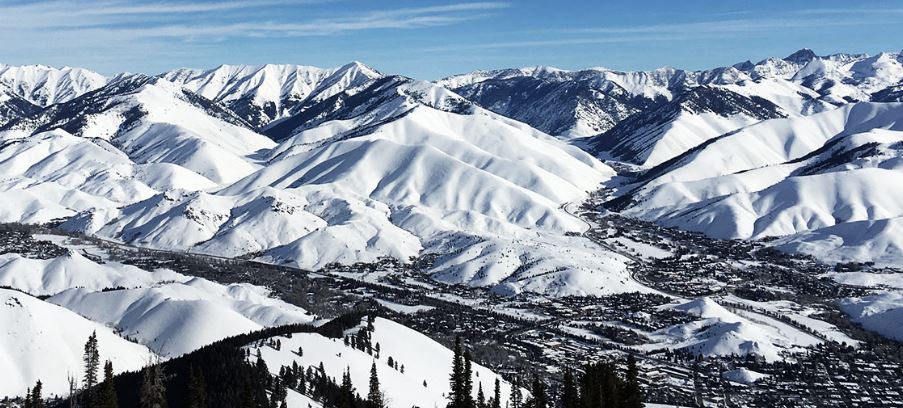 There are two ways to experience Sun Valley. The Hollywood way, with diamond-crusted facials and celebrity hobnobbing. Or the couch-surfing way, with a DIY flair that capitalizes on the local secrets of your hosts. Both are excellent approaches to the original American ski destination.
Where to stay
For a bit of Old Hollywood Nostalgia: Pull up to the Sun Valley Lodge, where furs and dark sunglasses are the norm. In the same realm of historic grand hotels as Yosemite's Ahwahnee and Mount Hood's Timberline Lodge, the Sun Valley Lodge has had a regular rotation of celebrities stroll through its hallways since it opened in 1936. Today those faces are preserved in the archival black-and-white photos adorning the walls. A renovation in 2015 kept that heritage and grandeur while updating the Lodge with amenities like larger guest rooms and windows, a limestone deck and heated pool. A visit here is not complete until you've bowled in one of the six regulation-length lanes on the ground floor.
The Sun Valley Inn, just across the courtyard, is a bit more of a throwback (as in, it hasn't been renovated like it's sister hotel). But with royal red printed carpet and a black grand piano in the lobby, it has a certain charm. Or go modern in downtown Ketchum at the Limelight Hotel.
If you're on a tighter budget: Do what I did and crash at a friend's. Hopefully they have a guest bedroom, or at least a couch. Or check out the new locally-owned hostel, the Hot Water Inn. A "boutique mountain lodge" in the price range of a single dollar sign, the Hot Water Inn offers 10 bedrooms—shared and private—at the base of the Warm Springs lift. Jam sessions encouraged.
Where to Ski
For courduroy cruising with the blue-hairs: Sun-starved Northwesterners flock to the sun-soaked and aptly named Seattle Ridge where blue-square groomers are a plenty. Of course, a few rounds of Warm Springs laps is a must. For more beta on where to ski, read it from a local.
If you don't own a Mountain Collective pass and/or don't want to throw down on a lift ticket: Sun Valley's secret is its backcountry access. There are five mountain ranges within an easy drive of Ketchum. Mountains as far as the eye can see. Drive to Galena Pass and skin from the road. Or hike into a yurt in the Sawtooths for a weekend of couloir hunting.