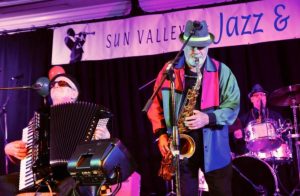 Wednesday, Oct 18, 2017 to Sunday, Oct 22, 2017
Sun Valley Jazz and Music Festival
Five days. Forty Bands. One Million Smiles
Attendees from all fifty states, every Canadian province, and several foreign countries gather each October to celebrate live performances of America's music. The Sun Valley Jazz & Music Festival was birthed out of a love and appreciation for jazz music by Tom & Barbara Hazzard and is held mid-October each year in Sun Valley, ID.
Become One of the Thousands of Jazz Fans Who Have Been Delighted Since 1990!
This experience of telling the story of "American" music is our passion. Amazing isn't it? We all get to be part of this history while it's still in the making. The names that ring through eternity—Armstrong, Ellington, Fitzgerald, Beiderbecke, Goodman, Holliday, Basie, Shaw, Miller, and so many more—have created a legacy of delight that lives on through those of us who participate in this jazz festival. The history of this music echoes the history of twentieth century America.
This jazz event is held this year because of your continued support and encouragement. You tell people how much fun it is and that they need to come to Sun Valley. It continues because people have a heart to support the event and because we have incredible volunteers. It will continue as long as we all do our part to provide a place for these dedicated artists to express themselves and expose us to the art form called Jazz.
Photo credit: Nic Roggeman