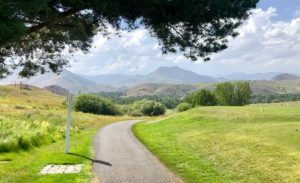 As the United States begins to get a handle on the coronavirus pandemic and travel starts to open up in many areas, many people are considering how they can safely take a trip at the end of the summer.
Despite international travel restrictions being lifted, Americans are not exactly being welcomed with open arms in a number of destinations so it's time to rediscover some of the destinations that may have fallen off the ol' bucket list.
This week, we start with Sun Valley, Idaho. Idaho is in phase 4 of its reopening with most retail, dining and tour establishments open for business in the state.
During a recent visit to the destination, I can confirm that travelers looking to escape to an alpine setting for a relaxing vacation away from the perils of COVID-19 will find their stay blissful.
Visitors will need to bring a mask but they will also find stunning hiking trails, adventure activities galore, al fresco dining, luxury shopping and more.
Travelers have their choice to stay at high-end resorts such as the Sun Valley Lodge or choose from a variety of vacation rentals. The local airport has regularly scheduled flights and Sun Valley is also a convenient drive destination from many places in the Northwest.
Most well-known as a ski destination, lifts do operate in the summer taking guests to the top of the mountain for views of the valley and offering the chance to dine outdoors at the Roundhouse restaurant.
Popular activities in the area include white-water rafting, horseback riding, biking, hiking, fishing—and even ice skating—as well as day trips to places like Shoshone Falls and Redfish Lake.
Visitors to Sun Valley in the summer are sure to discover why this hidden gem is more than a winter skiing hot spot.