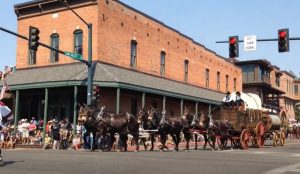 Experience the West's Largest Non-Motorized Parade in Ketchum, Idaho
Saturday, September 2nd, the city of Ketchum will hold its annual Big Hitch Parade, one of the largest non-motorized parades in the Pacific Northwest. This beloved event celebrates the town's mining history with an impressive display of horse-drawn buggies, carriages, carts, and stagecoaches.
The parade got its start in 1958 as a way to honor Ketchum's heritage as a mining town in central Idaho. In the late 1800s, large draft horses were vital for hauling heavy ore from the mines scattered throughout the surrounding mountains. The Big Hitch Parade commemorates this by featuring teams of horses pulling a variety of wagons and carts. Some rigs require up to 32 horses all working together!
One of the highlights is the stagecoach, an iconic symbol of the American West. Stagecoaches were essential for transporting people and mail to remote mountain towns like Ketchum in the late 1800s. Visitors can see these preserved coaches pulled by a hitch of six horse teams just as they were over a century ago.
In addition to the horse-drawn vehicles, the parade includes marching bands, dancers, classic cars, and more. Make sure to arrive early to get a good viewing spot along Main Street as the parade steps off at 1 PM. After the parade, stick around for live music, food vendors, and activities for the kids. Spend the weekend exploring downtown Ketchum and Sun Valley, with an array of shops, restaurants, and outdoor recreation just steps from Main Street.
The Big Hitch Parade is a can't-miss tradition for visitors and locals alike. If you find yourself in Idaho this August, be sure to stop by Ketchum for this beloved annual event that offers family-friendly fun and a glimpse into the area's pioneering past.